INVENTORY & STORES MANAGEMENT
World class status at our managed stores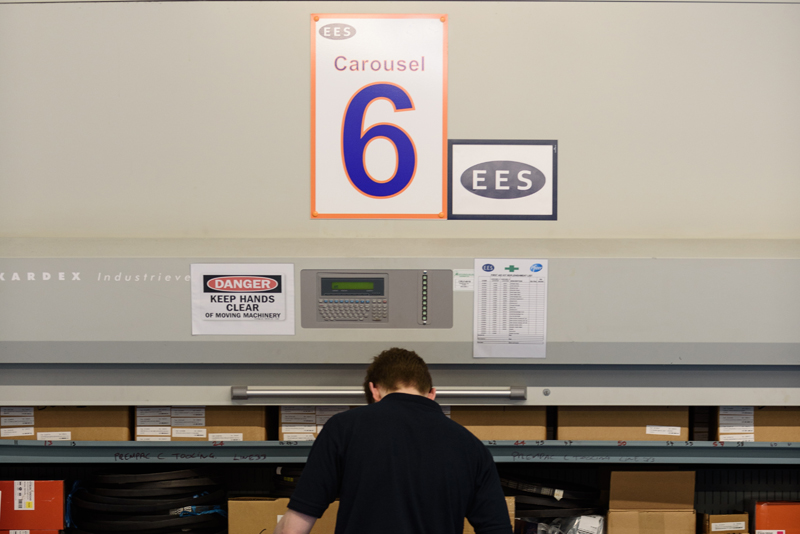 Knowing who has overall responsibility for the running and ownership of the store's function is overlooked by many. Does it fall under the responsibility of production, facilities, or maintenance?
At EES, we take ownership and overall responsibility for developing and managing a world-class store's function in larger manufacturing sites.
Our stores management system is efficient and works towards a number of key objectives for your business. These objectives include:
Keeping an eye on stock levels in the store to ensure that there is availability of all products and to prevent the issue of overstocking.
To make sure that all materials are stored and controlled, and managed continuously.
To reduce storage costs by more efficient management of products or materials. This may include reorganising the storage system for a more efficient use of storage space.
To ensure that the supply of materials to and from your business is smooth and uninterrupted, ensuring that your business remains functional.
Maximising the efficiency to staff involved within the store, ensuring that practices and effective are streamlined for the highest levels of productivity.
Ensuring that all products or materials are handled and packaged with care, preventing any damage and ensuring they are of the highest quality.
Protecting products and materials and the storage system they are in from risks such as theft, damage or fire hazards meaning your products are safer.


Our strategy includes developing a focus on inventory, correct min-max levels and a slow and obsolescence programme that can drive costs down while increasing functionality. Accurate data and audited stock values can only be achieved when controlled. Additionally, we ensure planned rather than reactive purchasing in order to reduce costs and eliminate downtime.
Our Stores Management services include:
Full Compliance to sites EHS Standards
6s Program
Reporting Metrics
Data Integrity
Virtual Warehousing
Stock Optimization
Full Engagement with Quality Processes
Kitting Program
Inspect on Receipt Management
Classification Determination
Predictive VS Reactive stocking Levels
Performance KPI's